The English Jewelry Establishment
A three day London program with two optional additional days encompassing Bath.

April 2011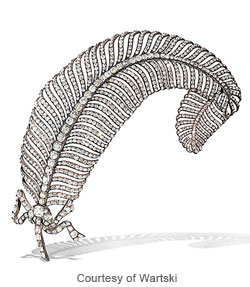 In this three-day excursion, with optional extension outside of London, we experience the glamour and allure of majestic tiaras that reflect the splendor of English courtly life.
Thousands of fine diamonds set with a mixture of emerald rubies and sapphires have sparkled during coronation ceremonies, in grand ballrooms or state receptions abroad. Such jewels remain central to the identity of a nation with a Monarch and jewelry study in London would be incomplete without a private visit to The Tower of London.
The impact of the court on style is demonstrated through hands-on study of 18th and 19th century jewelry. We see how royal opulence, quirkiness, eccentricity, restraint or romanticism shape the nationís jewels. The sprays of diamonds mounted on tremblers of the 19th Century give way to various eclectic arrays of Revival styles as the taste of new wealth exerts itself. What we explore is the evolution of a distinct English style against a backdrop of royal courts, powerhouses, or Edwardian aristocratic life.
Despite the establishment of the finest jewelry houses of Paris, Russia and America in London, English jewelers have constantly maintained an aesthetic particular to themselves. We see this with a visit to the Victoria and Albert Museum where a dazzling diamond corsage brooch made by Garrards of London is amongst the many pieces demonstrating the finest work of English jewelers.
We focus on diamonds at De Beers and colored diamonds with Alan Bronstein at the British Museum of Natural History where we see the Aurora Pyramid of Diamonds. Kenneth Snowman is included in the roster of speakers along with a visit to Wartski.
Further information available September 2010